Inadequate Security and Premises Liability Laws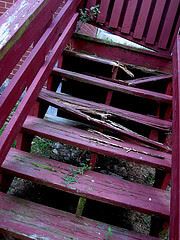 While most people automatically associated premise liability with slip and fall accidents, there are a number of other personal injuries that occur as a result of negligence on the part of a tenant or a property owner. Everyone has a right to expect they are safe when visiting any location: In Hawaii, due in large part to a significant tourism business, accidents involving premises liability are more common than they are in other areas.
Types of hazards
When property is poorly maintained, there is an increased potential for injury. Some of the common issues that may occur include:
Missing or broken handrails – property owners are responsible to ensure going down a flight of stairs is safe. This includes making sure handrails are available and are properly secured
Broken or damaged stairs – few things are more frightening than walking down an unsafe staircase. Injuries as minor as a sprained ankle to severe spinal cord injuries can occur as a result of poorly maintained stairs
Poor or inadequate lighting – parking garages, stairways and buildings that are open in the evening all require proper lighting to keep visitors safe. Failure to have adequate lighting can result in falls or worse, in a visitor being the victim of assault and battery, rape or robbery
Merchandise problems – store owners have a responsibility to ensure when shelves are stocked that items cannot topple of the shelves. Falling merchandise can cause serious head injuries and of course, spilled liquids can result in falls
Understanding Hawaii premise liability rules
Unlike many other states, Hawaii does not have rules that prohibit people who are trespassing from filing a personal injury suit under premise liability statutes. Anyone injured by the negligence of another is entitled to compensation for pain and suffering, medical bills and in some cases, loss of wages. It is important to contact an attorney who understands the law if you are injured on someone's property.
Property owners and managers may not be aware of hazards on their property. However, even temporary issues, such as a broken step must be brought to the attention of visitors and owners are responsible for taking immediate action to remove the hazard. Hawaii law states that managers and owners alike must ensure their premises are free of dangerous conditions, secure as possible and safe.
Property owners who have had previous incidents of violence on their property who have failed to provide adequate security may also be liable for any additional incidents including robberies, rapes or assaults. If you or someone you love has been injured on someone else's property, it is typically a good idea to contact a Hawaii attorney to evaluate your case. Keep in mind that documentation including witness statements and photographs of any hazards will only strengthen your case.
Posted By
Davis Levin Livingston
Categories: