Oahu Child Burned While Welcoming in the New Year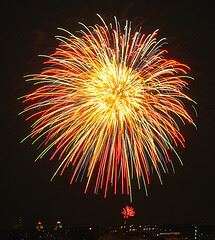 Welcoming in the New Year should be a time of joyous celebration. Unfortunately, it is also a common time for injuries. For example, on New Year's Eve this year a 5-year-old boy from Windward Oahu was injured in a fireworks-related incident while celebrating the New Year. Thankfully, the boy's burns were minorand he was successfully treated at the Kaaawa Fire Station since he had no need to go to a hospital.
Are Burn Incidents Common?
Unfortunately, burn injuries are a fairly common occurrence. Thankfully, those burn injuries are often times minor such as the incident listed above. However, burns from fireworks, like what is featured in the new's story, are not the most common type of injury. Read below to learn about the most common types of burn injuries:
Thermal burns
This type of burn injury is the most common type of burn seen by medical professionals. It includes any burn sustained from direct contact with burn-inducing surfaces or substances. For example, thermal burns often occur when individuals come into contact with fire, steam, hot surfaces or hot liquids. Thermal burns are usually sustained in the home.
Chemical burns
Another common type of burn is the chemical burn. This can affect a person's eyes and skin. Usually, this type of burn is a result of a workplace accident where individuals were exposed to hazardous chemicals. Individuals who suffer this type of burn are usually owed compensation by the responsible company.
Inhalation burns
Another common injury is inhalation burns. These burns occur when individuals inhale smoke from either a house or vehicle fire. Although on the skin burns, or contact burns, are thought of as most severe, an inhalation burn is actually more serious in many instances.
Explosions
Burns caused by explosions encompass a wide range of incidents. This could include a burn caused by a propane heater or gas grill explosion or any other product that is capable of exploding. Burns from fireworks can obviously be considered in this category as well. However, they are not commonly seen burn. Occasionally, explosions occur in a workplace environment, which leads to burn injuries, but thankfully, they are also not that common.
The types of burns listed above are the most commonly seen by emergency and medical professionals. If you have sustained a burn through any of the avenues above or in a different way, you could be entitled to compensation. A highly skilled lawyer can help you determine your rights in your particular case. After all, a burn sustained on the job should not negatively impact your life from then on, especially if the burn injury limits your ability to earn income.
Posted By
Davis Levin Livingston
Categories: