Wet Floor - Watch Out. Most Common Accident Areas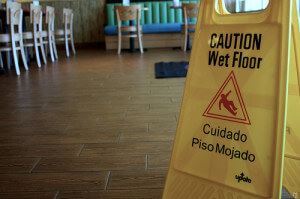 Approximately 25,000 people are injured every day in the United States by slipping and falling. Seventy percent of these accidents occur when a person falls on a flat surface. There are many causes, such as tripping over a carpet or an uneven sidewalk, but the most common cause of such an accident is slipping on a wet floor.
This can happen anywhere, even in your own home. If you slip and fall on a wet floor in a commercial building, such as a grocery store, restaurant or shopping mall, the owner may have been negligent. This may be true even if you fall on the premises just outside the building. If this has happened to you, you may be able to collect damages to compensate you for your injury.
A few months ago, a Honolulu man received a $2 million jury award due to injuries he sustained when he slipped and fell on a wet floor in a bar. Beer had been spilled and not cleaned up. The man claimed he was not drinking and was the designated driver for a group of friends. It took him seven years and seven surgeries, but he eventually prevailed in his lawsuit.
If you have been injured by slipping and falling on a wet floor, you should consult an experienced personal injury attorney for evaluation of your case. You will need to provide your attorney as much information as possible so that you can get the best possible advice about whether or not you have grounds for a lawsuit.
Questions your attorney will ask.
All of the facts surrounding the circumstances of your fall.
Was there a warning sign? If there were warning signs and you walked across the wet floor anyway, you will need to prove the warning was somehow inadequate.
What was the substance you slipped on? It is not enough to claim the floor must have been wet since you slipped. If at all possible, you need to identify the substance, for example, ice, water, beer, grease, juice, etc.
Why was the floor wet? For example, had someone just spilled something and the owner had no time to clean it up? Was it a rainy day and people had been tracking in water all day from the outside?
Could you tell by looking that the floor was wet?
Did you seek medical attention? What are your injuries and cost of care, both current and future?
Did you report your accident to the manager or owner? If so, did you get a copy of that report?
Were there any witnesses? If so, did you get their names and contact numbers?
Did anyone take any pictures of the area? If so did you get copies?
As you can see, many factors must be considered. After evaluating the facts of your case, an experienced personal injury attorney will be able to determine if you have a legal case and if so, an approximation of your damages.
Posted By
Davis Levin Livingston
Categories: