Mark S. Davis Named 2014 Distinguished Law Alumni by Washington University Law School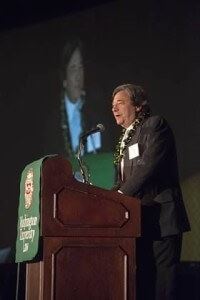 Honolulu lawyer Mark S. Davis was named 2014 distinguished law alumni by his alma mater, Washington University Law School in St. Louis. The law school stated:
"the distinguished law alumni awards honor alumni who have obtained distinction in their professional or academic careers. Those being honored share the same characteristics of leadership, positive thinking, high standards, uncompromising integrity, commitment, courage and confidence. Their careers serve as models for Washington University students and alumni."
Davis was honored at a dinner held at the Ritz Carlton Hotel in St. Louis attended by 350 people of the Washington University Law School community and his graduating class of 1974. View the awards ceremony.
Mark Davis is a founding partner of the Honolulu law firm Davis Levin Livingston in Honolulu. He has practiced for over forty years, first as a civil rights lawyer and later as trial lawyer in civil actions. He has consistently been recognized by his peers as one of the best trial lawyers in the state with some of the largest verdicts and groundbreaking victories in the state. He and his firm founded The Davis Levin Livingston Charitable Foundation that funds charitable activities nationwide and efforts that support access to justice. He is an adjunct faculty at The William Richardson School of Law at the University of Hawaii.
Posted By
Davis Levin Livingston
Categories: