Davis Levin Livingston Attorney Matt Winter Wins Court Battle Over Free Speech For the Homeless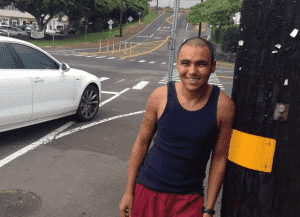 Davis Levin Livingston has a long and distinguished record of fighting for the rights of those who have been wronged or mistreated in Hawaii, setting legal precedents that reverberate for beyond the shores of the islands. But the law firm recently won what may be perhaps one of the most important and far-reaching cases in its history.
In June of 2014, a young homeless man named Justin Guy was standing on a city street in Kailua-Kona on the Big Island, holding a sign that said "Homeless, Please Help". The 26-year-old recent arrival from Colorado was unaware that he was in violation of a Hawai'i County law that prohibited panhandling, begging, or soliciting money in most public places.
But Guy wasn't to remain ignorant of the law for long. A police officer approached Guy, informed him he was in violation of the law, and directed him to leave the area. After Guy protested, he has issued a citation for being in violation of Hawai'i County Code Section 14-75.
If found guilty of the misdemeanor violation, Guy faced a maximum sentence of 30 days in the county jail. Instead of just pleading guilty and accepting his fate, Guy chose to fight back against what he saw as an unconstitutional infringement on his right to free speech.
Guy contacted Davis Levin Livingston's Matthew Winter, an attorney with extensive experience in litigation, who, working with the local offices of the American Civil Liberties Union, filed a civil lawsuit against Hawai'i County to defend Guy's constitutionally protected free speech rights, and the rights of everyone else in the county who might find themselves in a similar situation. Hawaii has the highest rate of homelessness per capita in the United States, with approximately 487 homeless persons per 100,000 residents.
As the case played out in court, the police officer who issued the citation to Guy testified that his panhandling was causing an obstruction to traffic and therefore was a perfect example of the type of aggressive solicitation that the county ordinance was intended to prevent. He argued that Guy was putting both himself and the public in danger.
But Winter countered by arguing that Guy's panhandling was no less aggressive or a public nuisance than the politicians who engaged in roadside campaigning by holding up signs, soliciting votes, and having conversations with drivers and pedestrians during election years.
"When a politician or police officer can wave a sign on the road asking for the public's support, but a poor person faces criminal charges for the exact same conduct, that is wrong," Winter said.
In September of 2014, Judge Susan Oki Mollway issued a temporary restraining order in the case, saying that she believed that County Code Section 14-75 was a violation of Guy's First Amendment right of free speech and that he was likely to win his case, adding that she found it hard to understand why Hawai'i County couldn't find a way to address public safety concerns without restricting individual rights.
The charge against Guy was eventually dismissed, and in September of 2015 Davis Levin Livingston and the ACLU announced that a settlement had been reached with Hawai'i County in the case, requiring the county to repeal several code provisions that criminalized begging and solicitation, and also to pay a total of $80,000 in legal fees, damages, and costs.
Through their corporate counsel, Hawai'i County issued a statement saying that "the law in this area is always evolving" and that the repeal of the unconstitutional provisions and the subsequent amendments "strike the proper balance between First Amendment protections and public safety concerns."
In his own statement Guy said, "The County of Hawaii should treat homeless people with dignity, and recognize that we have constitutional rights, including the right to free speech, just like everyone else."
Winter said that it took a lot for a man like Guy, who existed on the fringes of society, to stand up for his rights against the legal system, but that he learned that his voice did matter and that he could be a force for positive change.
He mused that the way the homeless and other disenfranchised people are treated is a discouragement to their civic participation. "Why would people want to invest in society when they are constantly pushed around?" he said.
For Guy it was a happy ending all around. He returned to Colorado, is no longer living on the street, and said he has plans to attend a community college in pursuit of a degree in music.
Posted By
Davis Levin Livingston
Categories: