$11 Million Paid to Settle Lawsuit Over Tripler Medical Center's Errors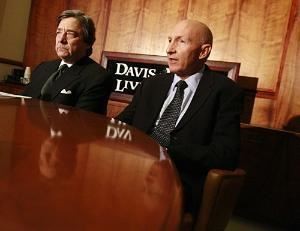 Attorneys
Mark Davis
and
Michael Livingston
held a news conference at their downtown offices yesterday to announce an $11 million settlement with the federal government over a
medical malpractice case
at Tripler Army Medical Center. The case involved negligent care administered at the birth of Kayla Mae McCraw, now 4 years old, which left her critically brain injured and in need of lifelong medically assisted care.
A former Hawaii Navy family has received an $11 million settlement after a daughter suffered permanent brain damage when she was delivered by young and inexperienced Tripler Army Medical Center doctors who put the newborn through "a series of egregious medical errors," the family's lawyers said yesterday.
The settlement was reached in March on the eve of a federal trial before U.S. District Judge David Ezra, and the money was finally received last week, lawyers Mark Davis and Michael Livingston said.
Kayla Mae McCraw, now 4 years old, will never walk, talk or use the bathroom on her own after miscommunication and botched procedures at Tripler left her brain damaged at birth in November 2005, Livingston said.
Her family has been struggling to take care of Kayla in the San Antonio suburb of New Braunfels, Texas, where they live with the parents of Kayla's father, David, and Kayla's 2-year-old sister.
Before Kayla's birth, David suffered a brain injury while aboard a Navy ship undergoing classified operations in the Persian Gulf, the family's attorney said. David was 20 years old when Kayla was born at Tripler and has since been medically discharged from the Navy.
The $11 million settlement has been put into an annuity account that will pay for treatment and equipment for the rest of Kayla's life, Davis said. The settlement was so large that it had to be approved directly by U.S. Attorney General Eric Holder, Davis said.
It follows a $16.5 million verdict that Judge Ezra delivered against the federal government and Tripler in 2006 over the delivery of Izzy Peterson, who was given carbon dioxide instead of oxygen to help him breathe, resulting in severe brain damage.
Izzy's verdict represented the highest award in Hawaii for a personal injury case involving a single person, according to the Petersons' attorney, Rick Fried.
But Neal Seamon, editor of Personal Injury Judgments Hawaii, said he had never heard of a pretrial settlement in Hawaii close to the $11 million received by Kayla's family.
"The government rarely makes settlements, so $11 million is extremely unusual and extremely high," Seamon said.
Unlike private hospitals in Hawaii, the federal government cannot keep malpractice settlements secret at Tripler. So there is no way of knowing whether Tripler has an unusually high rate of malpractice settlements compared with other Hawaii hospitals, Seamon said.
But Fried believes problems regarding pediatric care at Tripler are going down.
"From my experience, Tripler has a somewhat higher problem rate than the other facilities involved in delivering children," Fried said. "But I do think that things are somewhat improving because the government doesn't like to pay these huge sums of money. They do have some decent doctors, but this is what happens when you have a teaching facility without having (attending physicians) right on top of them. … You don't get to experiment on someone's baby."
Tripler spokeswoman Janet Clark said in a statement, "The circumstances surrounding the November 2005 birth of Kayla McCraw at Tripler Army Medical Center were an unfortunate tragedy. Tripler accepts full responsibility for the outcome, resulting in its decision to support the settlement of the lawsuit brought by Kayla and her family. Tripler is especially gratified in knowing that the settlement monies will ensure that Kayla will receive the medical care, assistance and rehabilitation that she needs for the rest of her life."
In the early hours of Nov. 11, 2005, Celia McCraw — an 18-year-old Navy wife — went into labor with her first child and checked into Tripler, accompanied by her husband, David.
Celia and her unborn child were placed under the care of a young, second-year resident being supervised by a more experienced doctor who was relatively new to Tripler, Livingston said.
Throughout the day, monitors showed signs of fetal distress — and by 5 p.m. "things really took a turn for the worst," Livingston said.
Although the young resident and her more experienced supervisor concluded the baby would be in "extreme jeopardy" if she was not delivered immediately, little was done for nearly an hour due to "an astounding failure of communication," Livingston said.
By 6 p.m., Livingston said, "the fetal monitor showed that the baby was almost dead."
Kayla was finally removed from her mother's womb with relative ease, he said, and doctors discovered that the umbilical cord was wrapped tightly around her neck.
Kayla was born limp and not breathing. Blood gas analysis showed that she essentially had suffocated during the last stages of labor, Livingston said.
Her doctors had already alerted a resuscitation team — led by another second-year resident — to attend to the newborn, Livingston said. A first-year intern then inserted an endotracheal tube designed to administer 100 percent oxygen through Kayla's trachea and into her lungs, Livingston said.
Instead, the intern inserted the tube down Kayla's esophagus and pumped the oxygen into Kayla's stomach, depriving her lungs, heart and brain of badly needed oxygen, Livingston said.
More than 40 minutes passed before a staff neonatologist discovered the problem and corrected the placement of the endotracheal tube.
Kayla "pinked up immediately," Livingston said. "Unfortunately, severe brain damage already had occurred."
Someone also had failed to adequately clamp Kayla's umbilical cord, leading her to "bleed out" and require a transfusion, Livingston said.
"It was a series of egregious medical errors over two hours … violations of basic medical protocol," Livingston said.
The mishaps left Kayla a spastic quadriplegic suffering from cerebral palsy who will have to be fed through a tube for the rest of her life, Davis said.
Clark, Tripler's spokeswoman, concluded her statement by saying that "Tripler's commitment to providing the highest quality medical care to our active duty service men and women, their families and dependents, and the larger Hawaii community has never been greater. Patient safety is at the heart of everything we do. Tripler has completed an extensive review and evaluation of this case and has already implemented important changes designed to ensure that similar tragedies do not occur in the future."
Posted By
Davis Levin Livingston
Categories: