Winner of Hawaii High School Humanitarian Scholarship Announced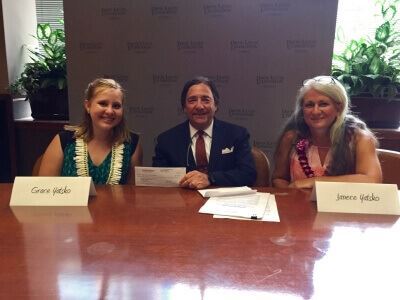 The Hawaii High School Humanitarian scholarship was created by the Davis Levin Livingston attorneys in Hawaii. This scholarship is awarded to the student who shows profound leadership and dedication to making a positive difference in Hawaii. While the attorneys are also dedicated to making Hawaii a better place, they also believe the youth are the key to the future of creating change.
Grace Yatsko, a recent graduate of Kapaa High School and this year's winner of the scholarship, exhibits a great commitment to improving the world around her. To Grace, volunteering and community service are not chores. They are opportunities to help those in need, and the list of the places she's volunteered shows just that. She has participated in numerous events including the American Cancer Society's "Relay for Life," has served food at Thanksgiving Day luncheons, and organized the fundraising effort following the burglary of the Friendship House in 2015 and doubled the amount of money stolen.
"When you volunteer, you help change the world. It may not seem like you are, but even a small gesture can go a long way," Grace stated. "It inspires others. Volunteering may seem like hard work, but hard work pays off. It's just a great feeling when you can help others and see what it has accomplished."
With the help of this scholarship, Grace will be able to achieve her goal of being a teacher by attending Western Washington University in Bellingham, Washington this fall. She will be pursuing English as a major with a concentration in Education.
"Teachers have such an influence on children and I want to be a positive inspiration for students. I want to educate students to respect each other and their community," expressed Grace. "I also want to help students believe they can get into college and achieve their professional ambitions."
Through the Hawaii High School Humanitarian Scholarship, Grace will receive a one-time grant of $5,000, payable towards college tuition in a check made out to the college or university of her choice. There, she will be able to continue her efforts of making the world a better place. To learn more about the scholarship, click here.
Posted By
Davis Levin Livingston
Categories: