Honolulu Burn Injury Attorneys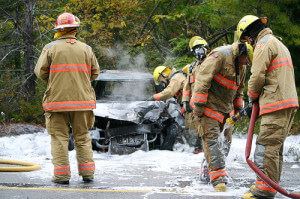 Burns are among the most dreaded of personal injuries one can experience, and they can happen in many different situations. There might be some type of fire or explosion that occurs during an auto accident. In addition to burns on the skin, internal burning can happen to those who inhale too much smoke. There could be a short in an electric appliance because of faulty manufacturing. Or there could even be a child who suffers a serious burn, including severe sunburn, while under another's care. Burns can also happen in industrial settings, where a person may be exposed to unsafe chemicals.
Sometimes burns happen simply because someone isn't paying attention. But other times they happen when there was no reason to expect a high risk for a burn, but the burn happened anyway because someone was negligent.
Small Burns vs. Large Burns
When it comes to burns, the higher the degree, the worse the burn. First degree burns are only painful for a short time. Second, through fourth degree, burns are more serious.
First and Second Degree Burns
When smaller burns happen, such as touching a stove or curling iron by mistake, or spending a little too much time in the sun, for the most part, we can let these slide. These burns are seen just on the first layer of skin, and while they can be initially painful, basic first aid can fix them.
Second-degree burns may peel and blister, and the pain normally lingers longer than it does for first degree burns and affects the second layer of skin as well as the first. They are somewhat more painful but normally heal without incident.
Third and Fourth Degree Burns
Third and fourth-degree burns go far beyond pain to the skin's surface. Third degree burns to penetrate to the deepest layer of the skin and into surrounding tissues. Fourth-degree burns reach the bones, muscles, and nerves and have long-lasting effects. With these burns, there is a high risk of infection, including sepsis, an infection associated with shock.
These higher degree burns do not simply heal on their own without the proper medical attention, and even with the best care, many victims of serious burn injuries find themselves experiencing chronic pain for the remainder of their lives.
The Importance of Treating Burns
As with any personal injury, it is important that burns be treated promptly. For lesser burns, prompt treatment can reduce the incidence of scarring and limit future pain. With more severe burns, quick treatment could mean the difference between life and death.
The Physical and Financial Concerns after being burned
While doctors don't normally think of the cost as they are first treating burn victims, the price soon becomes a very big issue. A person who suffers burns on 30% of their body will incur initial medical bills in excess of $200,000. These figures don't include other financial challenges the victim and his family may face, including lost wages, future earning potential, any reconstruction treatment to combat scarring, or supportive services to help a person deal with any emotional scars a person may have from the experience.
Getting these bills paid, as well as compensation for pain and suffering doesn't just happen, and leaving burn-related expenses to the insurance company will likely get you burned financially. But by hiring a personal injury attorney with experience dealing with burn injuries, you'll have the best chance of receiving the settlement that truly covers your needs. Contact Davis, Levin, and Livingston now for a free consultation.
Posted By
Davis Levin Livingston
Categories: