$6.25 Million Dollar for Elderly Paraplegic Client Injured in Fall at Mid-Pacific Country Club Won by Mike Livingston and Loretta Sheehan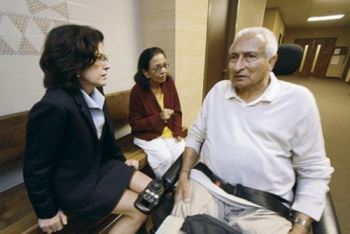 Amar Sappal, who was left paralyzed from the waist down when he broke his back in a fall at Mid-Pacific Country Club, sued the club for millions of dollars in damages. At left is Loretta Sheehan, one of Sappal's lawyers, and in the center is his wife, Kamlesh Sappal.
A Circuit Court jury returned a verdict today awarding a 79-year-old man about $6.2 million for the broken back he suffered when he fell 15 to 20 feet late at night from the first tee at the Mid Pacific Country Club.
The jury found that Amar Sappal suffered damages of nearly $12.5 million for his injuries that left him paralyzed below his torso.
But the panel also found that Sappal and Mid Pacific were equally negligent.
The finding means that the country club must pay half the amount of damages under the verdict.
Sappal was on the illuminated first tee area as a guest of his son, a club member, and another member at about 11 p.m. on June 30, 2009 when they said an automatic spindler went off.
Sappal's lawyers argued that the spray stunned Sappal and knocked him backward, down a slope and over the edge of the first tee.
Mid Pacific lawyers denied the country club was liable, suggesting that Sappal was intoxicated and arguing that he was familiar with the elevated tee from playing golf there previously.
"I believe in our jury system and I think at the end of the day, it's very fair," Sappal said about the verdict.
Michael Livingston, one of Sappal's lawyers, also said he thought the verdict was fair.
Arthur Roeca, Mid Pacific's lawyer, did not have any comment.
Following a trial spanning about five weeks in Circuit Judge Gary Chang's courtroom, the jury deliberated a total of about two days before returning the verdict this afternoon.
Posted By
Davis Levin Livingston
Categories: