Winner of 2015 Davis Levin Livingston Public Interest Scholarship - Leah Wong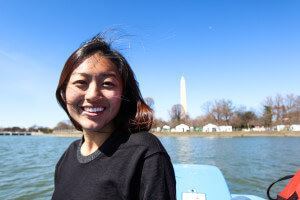 At Davis Levin Livingston, we were gratified to see so many outstanding applications this year for our second annual Davis Levin Livingston Scholarships. We started this scholarship program to support and encourage students who intend to pursue careers in public interest law, and we were very pleased to find out there were so many students committed to using the law to promote justice for people and communities who desperately need it.
Among the many strong scholarship applications, the one from Leah Wong stood out for her positive attitude and the dedication she has already shown to helping others receive justice. Leah is the first person in her family to graduate from college and to attend professional school. In her essay, she wrote that she has "always seen the legal profession as a catalyst for genuinely positive change in this world." She hopes to become "an advocate, a voice, and an ally to … marginalized and disenfranchised communities … that [suffer from] social and institutional injustices."
She was raised in a first-generation single-parent family. Her fascination with law grew out of her family's feelings of dislocation and their ongoing financial challenges. These difficulties made her strong, resilient, and committed to bringing people together and pursuing justice, equality, and inclusivity for those who need it most. At an early age, she had a strong vision of the role she wanted to play in the world, and she pursued her goals both inside the classroom and out in the world.
She has a long list of honors and accomplishments. She was named one of the top 30 most influential Asian/Pacific Islander Americans at the University of California, San Diego, where she was active in student government, served as a Student Advocate, was named the most inspirational member at Kappa Alpha Theta, and received Provost Honors for her academic excellence. She worked at the San Diego District Attorney's Office, where she was recognized for her professionalism, team spirit, and significant accomplishments, and she helped many constituents when she was an intern for Senator Barbara Boxer. Leah is currently a member of AmeriCorps, working on improving re-entry support for returning military veterans.
This year, she also directed a San Diego production of the classic feminist play The Vagina Monologues, an experience she describes as "monumental." What most impressed her about the experience was not only the thousands of dollars the play raised for San Diego's only rape crisis center or the skills she acquired by organizing weekly workshops for cast and crew. The most significant part of being involved with the play was having the opportunity to mentor the women in the production, who opened up about their experiences of abuse and self-harm and their stories about how systems that should have granted them justice, instead let them down.. From this experience, Leah became even more committed to becoming an advocate for justice for people whose needs have been unfairly denied.
She will be attending University of Pennsylvania Law School. She chose Penn Law because of its leadership in interdisciplinary studies, an approach she believes will create the best foundation for pursuing her goals of promoting social and global justice in today's evolving environment.
Leah describes herself as an "avid people lover." We are pleased to present her with a $3,000 Davis Levin Livingston Public Interest Scholarship to be used for law school tuition and related expenses, to support her in her quest to increase justice in the world. Her love of people. her challenging life experiences, her demonstrated capacity for hard work, and her passion and energy for helping others make her an outstanding candidate for a fruitful public service career.
At Davis Levin Livingston, we believe that the finest role a lawyer can take on is to become a voice for those who are voiceless, a champion for those who the system or circumstances have abused. We are honored to have this chance to help encourage the next generation of public interest lawyers. With future lawyers such as Leah Wong entering the public interest arena, we feel confident that the crucial work that public interest lawyers provide for the country and the globe will continue from one generation to the next.
Posted By
Davis Levin Livingston
Categories: