Attorney Loretta Sheehan Honored with 2019 Hawaii Women's Legal Foundation Award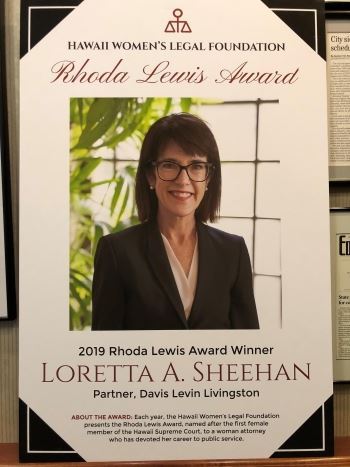 Partner and Attorney Loretta Sheehan of Davis Levin Livingston has been practicing law for decades, marking her as one of the most experienced birth injury attorneys in Hawaii. Throughout her career, she has taken more than 45 cases to trial on behalf of her clients, who she respects and represents as if they were her close friends in need. Her dedication to client satisfaction in the fair pursuit of justice and compensation has truly built her a positive reputation across the islands.
In recognition of her devotion to her clients and her communities through outstanding legal representation, the Hawaii Women's Legal Foundation has recently selected Attorney Loretta Sheehan as its 2019 Rhoda Lewis Award winner.
The award is given to female attorneys who go above and beyond what is expected to ensure the best possible public service. Only one woman is chosen each year throughout Hawaii. Attorney Sheehan now joins the rank of many other amazing women, including the 2018 award winner, Ms. Jill Baldemor, who is the Executive Director of Teach for America (Hawaii).
This is a tremendous honor that deserves heartfelt thanks. From all of us at Davis Levin Livingston, we thank the Hawaii Women's Legal Foundation for recognizing Attorney Sheehan's commitment to excellence.
For more information about the Hawaii Women's Legal Foundation and the Rhoda Lewis Award, be sure to click here to view a list of past award winners. To see how Loretta and our team of Hawaii birth injury attorneys can help you seek compensation and peace of mind after the unthinkable happens, contact us online or call (808) 740-0633 at any time.
Posted By
Davis Levin Livingston
Categories: