DUI Hit and Run Death Results in Prison Sentence for Driver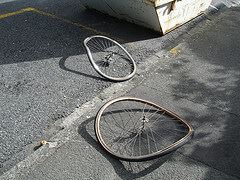 A 41-year-old Alison Taylor was recently sentenced to 10 years in prison after pleading no contest to first-degree negligent homicide, leaving the scene of an accident and DUI after a hit-and-run that cost a 20-year-old man his life. The incident occurred after Allison spent the evening at a Hilo sports bar where she consumed 12 alcoholic drinks.
After sleeping in the bar's parking lot for a few hours, the woman proceeded to drive home. She struck a bicyclist who was riding his bike alongside the road and then proceeded to drive into and sever a utility pole before fleeing the scene. Alison was eventually pulled over by Assistant Police Chief Marshall Kanehailua.
During the trial that followed, prosecutor Jack Matsukawa noted that in addition to having a blood-alcohol content of 0.18, which is twice the normal threshold for intoxication, Alison also had marijuana, morphine, and clonazepam in her system. Due to the egregious nature of her crime, she could have been convicted of a 20-year manslaughter charge. However, she was only sentenced to the lesser punishment of 10 years for her crime.
What does this real-life crime reveal about wrongful death
The story above highlights a wrongful death case. The victim was doing nothing wrong yet had his life taken from him due to the negligence of another person. Experts say that the cyclist could have lived if the woman had stopped her car after striking him. However, since she fled the scene, the cyclist died. Therefore, she was guilty of not only hitting the man but also leaving him to die, which made her actions even more callous.
How to deal with a Wrongful Death
For those residing in Hawaii, skilled attorneys can help you as you and your family deal with the wrongful death of a loved one. If your loved one's death was caused due to the neglectful or harmful acts of another, you and your family could receive compensation as a result of your loss. These resources are often used to replace the lost wages of the person who was killed, although all the resources in the world cannot replace a person's life. However, at least your family's monetary needs will be covered as a result of a wrongful death ruling.
What is the difference between wrongful death and a personal injury case?
A personal injury case is an end result of an injury caused by a company or some individual's negligence. However, these cases do not result in the death of the victim. These cases only involve acquiring compensation for injuries. However, wrongful death cases involve the wrongful death of an individual. In other words, a personal injury ruling will help the person who is injured through no fault of their own continue in life, while a wrongful death case takes care of those individuals who are left behind after their loved one's wrongful death.
If you have lost someone in such a way that their death could be considered a "wrongful death" or you or someone you love has been injured due to someone's wrongdoing, you could be entitled to compensation. To find out more, call Davis Levin Livingston today for a free consultation.
Posted By
Davis Levin Livingston
Categories: