Pedestrian Safety in Hawaii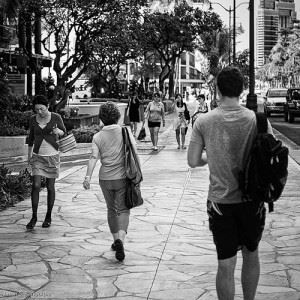 Hawaii is a state that draws in a substantial amount of tourists each year, many of which choose to walk to get from restaurants to beaches to hotels and beyond. Combined with the increasing resident population, the streets are often filled with pedestrians. But pedestrians are not the only traffic on Hawaii's roads. Cars and trucks also traffic the roadways, and sometimes these automobiles wind up hitting pedestrians. It is a problem faced by every state, but Hawaii is unique in its combination of tourism and traffic. This is why it is the only state in the U.S. with a Pedestrian Safety Month.
Hawaii Pedestrian Accident Statistics
Offering the most recent data on pedestrian accidents from a national government agency, the National Highway Traffic Safety Administration published a Traffic Safety Facts brochure in 2014 for the year 2012. It takes time to gather accurate data, which explains the gap between publication and the date of the data.
Some of the facts about Hawaii pedestrian accidents in 2012 offered by the report include:
26 pedestrian fatalities in 2012
These fatalities accounted for 20.6% of all traffic fatalities
There were 1.87 pedestrian fatalities for every 100,000 residents
There was a total of 126 traffic fatalities in the state
Another notable statistic discussed by the AARP is that pedestrians aged 65 and older face a significant amount of risks in Hawaii. In fact, the state ranks number one for pedestrian fatalities aged 65 and older.
For pedestrian injuries that did not result in death, the Hawaii State Department of Health released a report that covers data from 2007 through 2011. According to the report, there were 649 nonfatal pedestrian accidents in 2007, which decreased to 583 nonfatal pedestrian accidents in 2011.
Hawaii Pedestrian Safety Laws
Hawaii has a number of laws in place to protect pedestrians, in addition to the basic traffic laws that all automobile driver are expected to follow. The Hawaii state website has a Pedestrian Guidelines page, some of which include:
Drivers must STOP and yield the right of way to a pedestrian that is in a crosswalk, including when the pedestrian is approaching the half of the road where the vehicle is traveling.
Pedestrians are not allowed to walk into crosswalks when there is any immediate danger of getting hit by a vehicle, such as when a car is in the crosswalk or when it is going to within the crosswalk soon.
Pedestrians are only allowed to cross the road at marked crosswalks. This rule is important to both visitors and residents of Hawaii to help prevent unnecessary pedestrian accidents.
If crossing at a crosswalk is not an option, such as in a rural area, pedestrians shall always yield to oncoming vehicles. Only cross when it is safe to do so.
Pedestrians are not allowed to cross an intersection diagonally unless the crosswalk instructs them to do so.
Pedestrian Street Signs
If you have walked anywhere else in the United States, the pedestrian street signs are easy to recognize. A crosswalk that does not have a stoplight will be marked by a walking person, and a crosswalk with a stoplight will feature an automated walk signal. When you see the sign of a walking person (and sometimes hear an audio recording saying "walk") you can cross. A flashing hand indicates that you should continue crossing if you have already started, but do not start if you are still on one side of the street. A solid hand indicates that you should stop for your own safety and the safety of others.
Understanding Your Legal Rights As A Pedestrian
Walking is a great way to get around Hawaii, especially the more popular areas. But to walk safely you need to understand what the rules are and obey those rules.
If you are hit by an automobile and you were not breaking any pedestrian laws, you may have the option of seeking compensation for your injuries. If this is your situation, please contact our pedestrian accident law firm now to discuss your situation. Our attorneys are here to answer your questions, and you help pursue a successful personal injury case.
Please contact us now to get started.
Posted By
Davis Levin Livingston
Categories: